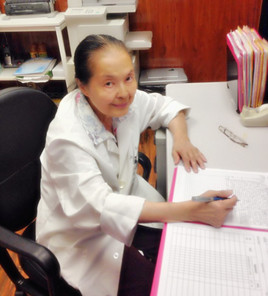 Dr. Sally Sun
Sally Sut Yee Sun M.D.
Graduated from Lingnan University, School of medicine at Guangzhou of Guangdong province. She worked as a staff surgeon in the Wuhan Yiu DIan Hospital in Hankou, for one and half year. She immigrated to USA in 1959. She went thru her postgraduate training formally, passed her ECFMGC, a standard certificate. She did her general rotating internship and residency in Pennsylvania of Ohio. She has completed her 3 years of approved training in Internal medicine in Massachusetts at Maryland. She passed her State Board examination in marine and in Oregon. She also spent almost 9 moths worked as a staff internist at Virginia State Hospital in order to gain practical experience in carrying for psychiatric patients, before she accepted a permanent job as staff physician in Internal medicine in VAMC at Woods, Wisconsin. In the meantime , she was also appointed by the Marquette University School of Medicine to be a clinical instructor for their senior medical students. In 198, she was invited by the Department Chief of Internal medicine, to be transformed over to work at the Fresno VAMC.

She dedicated 34 years of services to the Fresno VAMC, was well known
to be conscientious and caring to the patients. She has been given certificates of distinguished Service
Award from the AMVET of WWII. The certification of honoring her as Member, fellow of diplomat by the
American Board of Hospital physicians; also received certifications of lifetime diplomat of the American College of the Ethical physicians. She was also invited to be a selected members of the National Register's Who's Who in Executives and Professionals in 2005-2006.


---


Jonathan Jiang
Chunyi Jiang L.A.c

Jonathan has twenty years working experience in the medical field in China and USA. As a member of American Specialty Health and member of Advanced Primary Care Network, he is a dedicated, bilingual acupuncturist with a strong academic background, including a full certificate through medical school. He graduated from Traditional Chinese Medical University, in Tianjin, China and then attended a medical school at Capital University of Beijing, China.

Jonathan has treated patients from Laker's athlete and also many artists from Hollywood. He has working in the Orthopedics field for more than 20 years, he is specialized in treating multiple types of acute pain and chronic pain with his unique plan of treatments. For those who is suffering with sport or surgical complications, Jonathan will be a great specialist that you would consider to visit.
---
Dr. Chu
Grant Chu M.D.

Dr. Grant Chu is a board-certified physician in internal medicine. He received both his undergraduate and medical degrees from Brown University. He completed his residency and fellowship in internal medicine at UCLA. He also received his masters degree in acupuncture and oriental medicine from South Baylo University. He currently serves as a medical consultant at NewMed Health Center.

​


---

Kevin Lee
Doctor of Physical Therapy
Certified Strength and Conditioning Specialist

"I have invested my life into a career combining health and wellness education with hands-on clinical intervention to improve quality of life, function, and performance. My experiences have prepared me to seize an attitude of lifelong-learning that results in my ability to excel as a patient-educator, exercise specialist, and someone who identifies the root cause of your pain. I prefer to target the bottom-line problem instead of treating the superficial symptoms that will keep the problem recurring; therefore, results are often slow but steady."
-Kevin Lee



---
Jean Liang
Liang, Jean L.A.c
Jean has years of progressive experience in both Western medicine and Chinese medicine field.She got her five-year Bachelor's degree of Western Medicine& Anaesthesiology at Guangdong Medical College in China.She finished her two-years rotating internship and Anesthetist trainingat Affiliated hospital of GDMC. After graduated,she started to work as an Anesthetist in Zhanjiang People's Central Hospital.During her professional experience in China,she had a strong interest and ability in science,medicine,anatomy,physiology and neuroscience.Thereafter,Jean immigrated to US and completed her three-year Master's degree of science in acupuncture and Oriental Medicine at Alhambra Medical University.With her professional study of TCM,she is well experienced in treating many difficult disease by integrative medicine such as insomnia,hypertension,diabetes,depression,paralysis,infertility, weight control and pain symptoms.
---
There is much room for bringing Eastern approaches into Western medicine.

Question: Should Western and Eastern medicine be more integrated?

"Yeah, definitely I mean, there are few differences that I see right now. Eastern medicines is more focus on just regulating the body and keeping you healthy and boosting your immune system sort of thing and western medicine is definitely more like focus 3 months you have like medications, antibiotics therefore targeting specific types of illnesses and helping you recover from them so I mean, that's the key difference I see at this point in time and I think both of them should be used. I think that natural treatments boost immune systems are definitely good.
Acupressure could be good for more types of chronic pain. It's been shown to help and as I said, with the tension that was my research so I definitely think they could be integrated and also like the theories behind them people say eastern medicine hasn't been scientifically investigated. So that's my goal to kind of scientifically investigate it and see how it is effective and if you look at the theories behind them I said there's chi going through the body point eastern theory and you're trying to regulate that but then it's been shown that the acupressure points are located at points in the body where there is low electrical resistance so it's conductive areas where you can easily send an electrical signal throughout the body.
So in that sense, there is some electrical energy through out the body. There is an electrical charge differences between blood in the arteries, blood in the veins so. So really chi could just be another form and eastern form for electricity that they had way back before electricity like was formally discovered and I think that there is a definite relationship between the 2 that and they should connect more or so then than they are in present.
I think its hard word to define. It's generally just like a sense of balance I feel it's an internal energy source that easterners kind of prefer to, so when they say chi it's just I guess they mean like energy in the body. It's a more spiritual term I feel. So I guess that would be my general list definition for it."
-Steven Castellano